Produkty
Rozwiązania RFID
IF61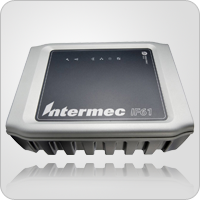 Features
Intel® Celeron® processor and ample storage to run complex RFID applications
Hosts applications written in Java®, Java Script or C# .Net
"Store and forward" capabilities ensure data won't be lost
Directly monitors and controls presence detectors and signal lights
Localized workbench to load, edit and run Java Script directly on the reader
Based on EPCglobal certified radio
Available in 865MHz, 869MHz or 915MHz frequency bands
In order for RFID readers to do more than simply read and act as a data conduit, they need processing speed and ample memory. With the powerful combination of an Intel Celeron M 600 MHz processor and up to 1 GB of optional memory, the Intermec™ IF61 Enterprise Reader is the smartest RFID reader available, capable of running complex RFID applications, delivering faster processing and localized intelligence.
When the host system or electrical power fails, the ample storage resources, and "store and forward" capabilities of the IF61 ensure that data won't be lost, even in the highest tag volume environments. In fact, with the optional spinning drive installed, the IF61 can store over 6 billion EPC tags. When applications are mission critical and "re-work" isn't an option, the IF61 can be counted on.
By hosting applications written in Java, JavaScript or C# .Net., the IF61 filters, stores and manipulates information from tags and sends it to a server in a required format, while monitoring external sensors and controlling audible and visual indicators. For example, the IF61 can be programmed to store a day's worth of shipping manifests, compare the pallet tags it reads against the manifests in its memory, and drive a peripheral device to issue a visual or audible signal of a correctly or incorrectly loaded pallet.
The IF61 can perform all of these tasks without the extra expense, and potential point of failure, of a separate industrial PC often required by other RFID reading solutions. Additionally, the IF61 includes powered general purpose input/output (GPIO) circuitry, which allows direct monitoring and/or controlling of peripherals such as presence detectors and signal lights without requiring extra devices and power supplies to facilitate the connection.
The IF61 is a Smart RFID Reader capable of embedding enterprise-class edge server software in lieu of requiring an on-premise PC. Advanced network services built into the IF61 greatly facilitates enterprise architects in configuring a highly secure, scalable, and reliable RFID infrastructure.
The IF61 is the only RFID reader to provide a localized workbench to load, edit and run JavaScript as a standard feature. The workbench allows programmers to test business logic directly on the reader, enabling faster application development while utilizing fewer resources.
Accessories
802.11 a/b/g radio, power cables, antennas, antenna
cables, mounting bracket, internal hard drive

Air Interface Protocols
EPCglobal UHF Gen 2, ISO 18000-6b, ISO 18000-6c, Philips Version 1.19, Fairchild G1

Certifications
FCC, ETSI

Connector
Ethernet, 802.3 wired, optional 802.11g

Environment
Operating Temperature :
-25°C to 55°C (-13°F to 131°F)
Storage Temperature :
-30ºC to 75ºC (-22°F to 167°F)
Humidity :
10% to 90% (Non-condensing)
Environmental Protection :
IP54 compliant
Vibration and Shock protection :
MIL-PRF-28800F, Class 2

Frequency Range
865, 869, 915 and 950 MHz

Physical Characteristics
Length :
324 mm (12.74″)
Width :
226 mm (8.90″)
Height :
108 mm (4.25″)
Weight :
2.55kg (5.62 lbs)

Power
Internal power supply:
95-264 VAC auto ranging, 47-63 Hz
Karta katalogowa produktu:
Kliknij na link obok aby pobraæ kartê produktu
link