Produkty
Rozwiązania RFID
Etykiety, karty, idnentyfikatory RFID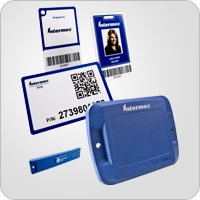 Intermec's passive UHF RFID tags, inserts and smart labels are capable of receiving, storing and transmitting digital information in multiple frequencies for global supply chain support.
IT67 Enterprise Lateral Transmitting (LT) Tag

Intermec's rugged IT67 Enterprise LT Tag is a passive UHF RFID tag designed for superior performance on metal surfaces. The tag is EPC Global Gen 2/ISO 18000-6c compliant meeting global standards.

IT65 Small Rigid Tag

Intermec's IT65 Small Rigid Tag is a truly passive UHF RFID tag designed for superior performance on a variety of surfaces. The tag is available in EPC Global Class 1, Generation 2 (Gen 2) and ISO 18000-6b protocols.

IT65 Large Rigid Tag

Intermec's IT65 Large Rigid tag is a passive UHF radio frequency identification (RFID) transponder that delivers superior performance on a variety of surfaces and is available in both Gen 2 and ISO 18000-6B versions.

IT32A Gen 2 ID Card

The IT32A offers not only EPC Gen 2 / ISO 18000-6C air interface protocol, and both FCC (915 MHz) and ETSI (865 MHz) configurations, but also a longer read range than most RFID card form factors. It's longer read range and durable packaging make it the ideal RFID tag for a variety of applications.

915 MHz ID Tag

The 915 MHz ID Card from Intermec is the first credit card format intelligent identification card on the market that provides both long-range identification and read/write capability for a wide range of applications from Homeland, corporate and personal security to luggage tags and customer loyalty programs.

915 MHz Windshield Tag

The Windshield Tag is optimized for attachment to vehicle windshields and is primarily used for access control in parking areas or secured "campus" environments. The tag is produced on a flexible substrate and includes an adhesive release liner for ease of installation.
Karta katalogowa produktu:
Kliknij na link obok aby pobraæ kartê produktu
link